PERFECTMEDSPA OFFERS NON-INVASIVE CELLULITE REDUCTION AND SKIN TIGHTENING WITH VENUS LEGACY RF.
Call (212) 901-0656 to learn more about the Venus Legacy cellulite reduction and wrinkle reduction treatment costs.
WE ARE PERFECTLY LOCATED ON THE BORDER OF DYNAMIC MIDTOWN UPPER EAST SIDE OF MANHATTAN NYC NEAR GRAND CENTRAL AT 109 E 36th ST, NY 10016.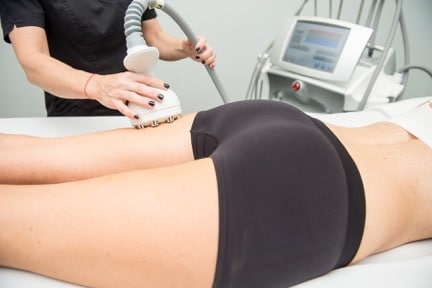 Achieve the body you've always wanted without invasive surgery. At Perfect57 MedSpa in NYC, we offer the highly advanced Venus Legacy™ technology that will non-surgically reduce cellulite and wrinkles for a smoother, slimmer silhouette and a noticeably more youthful-looking skin with no downtime.
Book an appointment for a free consultation.
Our professional medical spa is conveniently located in New York, NY 10016 near 5th Ave at 109 E 36th St.
What is Venus Legacy™ Cellulite Reduction?
A very comfortable non-surgical cellulite reduction and body shaping treatment that delivers noticeable results. This procedure is a great way to reduce bumps and dimpling around the buttocks and thighs resulting in a body that appears slimmer and more sculpted as well as skin that looks tighter, and cellulite that almost disappears.
What is Venus Legacy™ Wrinkle Reduction?
Venus Legacy also offers non-surgical wrinkle reduction treatments that fade fine lines, minimize the appearance of moderate to severe facial wrinkles and rhytides around the eyes, face and neck areas to restore a smoother, more youthful-looking skin.
How Venus Legacy™ Works?
Venus Legacy™ uses multi-polar radio frequency and pulsed electro-magnetic fields to enhance your body's natural production of collagen and elastin fibers. At the sametime, VariPulse™ gently works to liftthe skin upward, allowingthe energy to travel deeper providing a comfortableand effective treatment.
How long does it take to see results from the Venus Legacy?
Most patients who receive 6-8 treatments per area typically see results after the third treatment, however, many have noted results even sooner. Venus Legacy™ has reported it's results to last a minimum 18 months however results can continue if one session per quarter is maintained after the initial series of treatments. 
How long will the results last?
The results will increase after consecutive treatments. After your final treatment, your results can still improve for up to 3-4 months. After that, maintenance is recommended once a month or every 3-4 months, depending on the person.
If you are interested in what a NYC Venus Legacy™ body contouring, skin tightening and wrinkle reduction treatment could achieve for you, contact Perfect57 Med Spa today to schedule a free consultation. Our certified providers are experienced and offer the best Venus Legacy™ services in New York City to help you achieve a more youthful and rejuvenated appearance without surgery.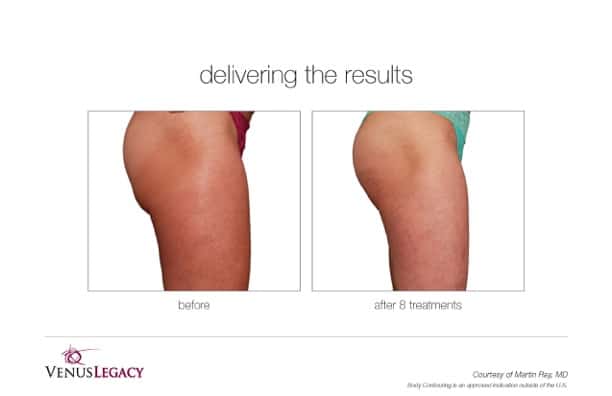 WHY DO WE LOVE VENUS LEGACY ANTI-CELLULITE TREATMENT?
SAFE FOR ALL SKIN TONES
Radio frequency technology is safe and effective for all skin tones, even darker complexions.
EXTREMELY COMFORTABLE
Enjoy a calmingtreatment experiencethat delivers noticeable results.
FAST AND CONVENIENT
One session typically lasts around 30 minutes and there is no recovery-time.
NO DOWNTIME
Return to your daily routine right away afteryour treatment.
ATTENTION TO DETAILS
We understand that every client is different therefore we provide everyone with an individual assessment plan to choose a treatment that will work for you.
RELAXING ATMOSPHERE
You can relax at Perfect57 MedSpa. Spacious rooms, gorgeous NYC views and courteous staff are always at your convenience and will assist at your first request.
AFTERCARE SUPERVISION
Our manager will follow-up in a few days to make sure that you are satisfied with the results. If there is something wrong, let her know and we will try to accommodate your request.
WHAT RESULTS CAN BE ACHIEVED WITH VENUS LEGACY?